The Reliance Power-Shanghai Electric deal will materialise over a 10-year time period, with annual sales of equipment of around $600 million.
Anil Ambani knows a thing or two about timing.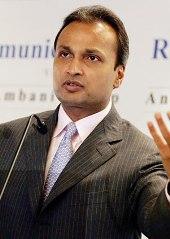 The $10-billion purchase order that the Anil Dhirubhai Ambani Group has placed with Shanghai Electric Corporation, for 36 coal-fired power generators and more, is not only the biggest such business deal in the power sector in recent times, but it is the biggest ever business deal between an Indian and a Chinese company.

Signing the deal on the eve of Prime Minister Manmohan Singh's meeting with Chinese Prime Minister Wen Jiabao was probably not serendipitous.

Mr Ambani was right to claim that this is a 'milestone in India-China business relations'.

It certainly helped create the right environment for the two heads of government meeting in Hanoi, coming as that meeting did after months of visible tension in the bilateral relationship.

Clearly, India's ambassador in Beijing, S Jaishankar, understood the significance of the event when he chose to fly down to Shanghai to witness the signing of the deal.

The Reliance Power-Shanghai Electric deal will materialise over a 10-year time period, with annual sales of equipment of around $600 million.

The transaction has been underwritten by China's EXIM Bank and the Commercial Bank of China and the memorandum of understanding provides export finance cover up to $12 billion.

Shanghai Electric has said it will set up facilities in India for manufacturing boiler, turbine and generator equipment, with a commitment to provide support for operation and maintenance of the equipment, supply of spares and training of manpower.

Quite understandably this mega deal has generated some disquiet among Indian power equipment suppliers.

However, given India's growth prospects, and the huge deficit
in power generation and consumption, there is, to quote Prime Minister Singh from a different but related context, 'enough space in the world' for the growth of both Indian and Chinese companies in the power sector.
India need not bend over backwards to create business opportunities for China given the huge bilateral trade surplus that China enjoys.
In fact, China has been suggesting that one way of reducing the trade deficit would be for India to permit Chinese companies to invest in export-oriented sectors in India.
This particular deal does not address that issue. In fact, it would add to China's trade surplus.
Hence, along with such infrastructure deals, China must also explore opportunities for investing in export-oriented and import-substituting manufacturing in India.
To the extent that Shanghai Electric is able to produce power equipment in India, thereby reducing the import burden, this deal would address that challenge.
More such business between the two Asian neighbours will help reduce the trust deficit that continues to haunt the bilateral relationship.
Prime Minister Wen's decision to visit India in December, on the heels of US President Barack Obama's visit, is a good omen and signals China's willingness to reduce tensions and get back to business.
Hopefully, the more liberal and reform-minded Mr Wen will be able to carry conviction with hotheads at home, especially China's military leadership, and can convince them that good relations with India are in China's interest.
Deals like Mr Ambani's can help oil the wheels of diplomacy and sweeten bilateral discourse.
Image: Anil Ambani